Quality Viron products supplied by Northern Pools include the Pool Pump, Pool Filter, Pool Heater and Pool Sanitiser.
Viron P300 Pool Pump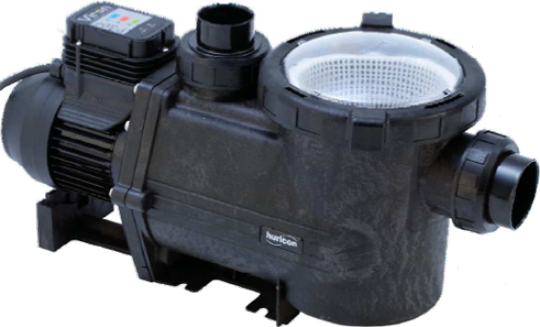 The Viron P300 incorporates a high-efficiency three speed DC motor along with state of the art electronic controls that provide benefits like no other pool or spa pump can. It's power consumption is reduced by up to 70% compared to conventional AC pumps. Noise levels are also greatly reduced by the selection of the correct speed which enables the pump to operate in the early morning or late evening. It can even take advantage of off-peak electricity rates, giving the potential to reduce operating costs by as much as 90%.
Less Manual Cleaning
The ability to operate for longer periods, without noise pollution, and with such dramatic cost savings means your pool can be filtered for longer, reducing the need for manual cleaning. In addition, the sanitiser used in your pool is better distributed over longer circulation periods each day, keeping the pool sparkling clean and healthy to swim in.
Comparison of Operating Costs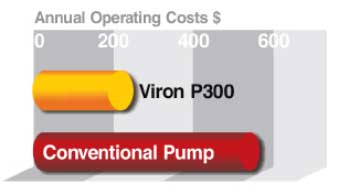 Super-Sized Leaf Basket
The super-sized leaf basket means much less frequent cleaning, allowing you to enjoy your pool or spa without the cost and maintenance usually associated with owning a pool.
Model Number
Horse Power
Price
Model Number: P300
Viron CL Cartridge Pool Filter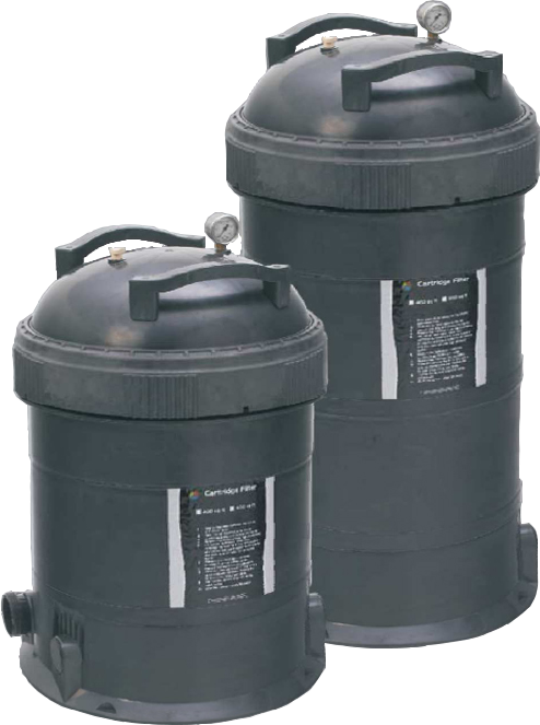 Cartridge Pool Filters have always been one of the most effective ways of filtering particles and debris out of a swimming pool or spa. The Viron CL Cartridge Filter has the added advantage of requiring very minimal maintenance. Using four extra large Reemahy Polyester elements, your Viron filter will only require cleaning about once a year.
A Finer Pool Filter
The Reemay elements filter out significantly smaller particles than sand filters do, thus keeping your pool sparkling clean and reducing the need for pool sanitiser. The very large capacity means that the filter creates virtually no resistance to the water flow, allowing better circulation of water around your spa or pool and reducing energy costs.
Turnover Capacity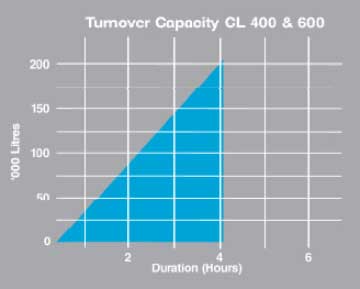 Once-A-Year Cleaning
Once a year cleaning saves 7,000 - 12,000 litres of water per year (compared to backwashing and sand filters). The fully injection moulded housing and internal engineering tolerances make for long life and trouble free performance.
Model Number
Filter Area (ft2/m2)
Price
Viron 400 Cartridge Filter
Filter Area (ft2/m2): 400/38
Viron 600 Cartridge Filter
Filter Area (ft2/m2): 600/57
Viron Gas Pool Heater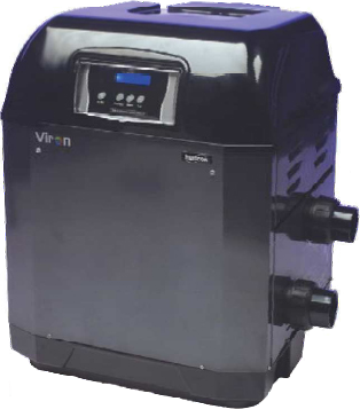 A warm pool or spa – yes, few things are quite as enjoyable or bring the family together so well. Northern Pools believe your spa and pool should be at the temperature you want, whenever you choose to swim. Unlike heat pumps or solar heating, which can take days to heat up your pool, only gas heaters can heat your pool or spa in a few hours at a reasonable cost.
High Efficiency
Viron's high-efficiency of up to 97% means that operating costs are about 20% lower than conventional gas heaters. Other forms of heating usually take so long to heat up that it's necessary to leave your pool heated even when not in use, just in case you want to swim. You wouldn't leave your car running just in case you need to go to the dairy. So why leave your pool heated, wasting energy and losing water through evaporation, just in case you want to go for a swim? With a Viron Gas Heater your pool can be heated in as little as eight hours, allowing you the flexibility to swim when you feel like it.
Heat-Up Times

Viron's Patented Heat Exchanger
Viron's patented heat exchanger is so efficient that the flue gases condense into water which can be added back to the pool. This can add around 3000 litres of water to your pool each year, reducing the need to top up your pool. Higher efficiency means lower gas consumption, and lower gas consumption means lower greenhouse gas emissions too.
Viron is also much smaller than conventional gas heaters, taking up significantly less space. Their cutting-edge materials reduce the potential for rust and corrosion, and sophisticated electronic controls protect the heater and extends its life. Marine grade aluminium and 316 stainless steel internal components further enhance the life of the Viron water heater. Where Natural Gas is available, Viron is the most economical heating option, allowing you to swim or spa whenever you want!
Model Number
M/J Input
kW Output
Price
Viron 250 - Outdoor
Viron 350 - Outdoor
Viron 450 - Outdoor
Viron 550 - Outdoor
Viron 250 - Indoor
Viron 350 - Indoor
Viron 450 - Indoor
Viron 550 - Indoor
Viron 125mm flue 4m inc cowl
Viron Condensate Kit
Viron Water Balance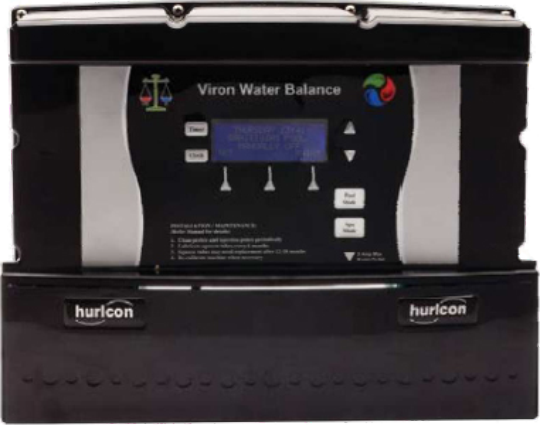 All Pools and Spas require a constant level of pool sanitiser to purify the water. Whether by salt chlorinator, generated chlorine or ozone, the failure of most systems is their inability to add the correct level of sanitiser. In addition, most will also change the pH of your water, quickly making the sanitiser itself much less effective. Viron Water Balance overcomes both problems and significantly reduces the amount of maintenance required to keep your pool or spa water in perfect condition.
Greater Automation
By constantly measuring and self adjusting the amount of sanitiser to suit the conditions of your pool, as well as maintaining the perfect pH for the sanitiser to operate in, manual checking of chlorine and pH levels on a weekly basis is almost eliminated. Balancing the pH means a significant reduction in the level of sanistiser required. And whether the water is warm, cold, used a lot or infrequently, the Viron Water Balance automatically adjusts the sanitiser dosing level to match. Its sophisticated electronics use fuzzy logic to continually adjust the dosing level to match your pool's particular requirements and changing use throughout the year.
Combining with the Viron Filter
The Viron Water Balance can be combined with the Viron CL Cartridge Filter meaning that if your pool becomes too full, you can drain the water directly onto your garden without the need for dilution, making further good use of your water supply.
The Viron Water Balance electronically connects to the Viron Pool Heater and Pool Pump and at the touch of a button automatically adjusts the temperature, flow rate and sanitiser level to spa pool settings, creating the perfect warm water environment for a relaxing and healthy spa.
Viron is good for the environment as it reduces the amount of sanitiser used and significantly lowers the impact of rising salinity that that backwashing sand filters connected to Salt chlorinators can cause.
Description
Chlorine Pump
Acid Pump
Price
Viron PWB8 ORP & pH 5/5
Viron PWB8 ORP & pH 20/5
Viron PWB8 ORP & pH 100/20
Viron PWB8 ORP
Viron PWB8 ORP
Viron PWB8 ORP
Viron PWB8 pH
Viron PWB8 pH
Viron PWB8 pH