No more cold shock! Swim all year round with top quality pool heating systems from Northern Pools.
Performance Plus Swimming Pool Heat Pumps
Designed and Manufactured By: Hot Water Heat Pumps Ltd | Advancing Water Heat Pump Technology & Applications Since 1980
Seventh Generation R410A Heat Pumps
Our goal at Hot Water Heat Pumps has continued to ensure that our clients will always receive a quality Heat Pump.
We focus on doing our homework thoroughly, in order to deliver products that are reliable, economical and long lasting.
We have stayed away from the temptation of buying inferior heat pumps (cutting corners, making short cuts, using low quality components, poor design etc) at dirt cheap prices from overseas and re-badging them here. We still refuse to compromise on quality and believe you agree that the quality of Performance Plus Heat Pumps should not be sacrificed. As you all know, New Zealand is a relatively small market and bad news quickly travels, especially in our industry. You all have heard one or more stories about the issues with the other heat pumps.
The team at Hot Water Heat Pumps Ltd has been diligently working behind the scenes over the past few years to produce a range of new heat pumps using R410A, the new Eco Friendly refrigerant.
From an environmental perspective, R410A is a winner. It has zero Ozone Depletion Potential (ODP) and higher heat transfer coefficient.
It has been a long and, at times, an arduous task, working towards achieving our targets, designing,testing, revising and sourcing the best components at the best possible prices. We believe we have now achieved our goals. We have improved the design and the performance of the units, making the installation as simple as possible while keeping the cost as low as possible.
The new series of our heat pumps will be marketed under the same brand name, Performance Plus. These new products represent the next generation and come with all the benefits and features of the HW series. They are easily identifiable as they are produced using an elegant grey colour. On the Horizontal Discharge models, the other visual difference is the compressor and controller position, which is on the opposite end.
The new units are not a direct replacement of the HW range and therefore you will need to pay attention to the sizing charts.
Introduction
The world is running out of abundant and cheap oil on which all industrial and developing nations had depended on the past. The general public and governments are also becoming more aware of environmental issues. Greenhouse emissions, climate change, alternative energy, earth hour, and saving the planet are the buzz words of the day. In the absence of another cheap and reliable source of energy, the most tangible and rewarding solution is still the use of energy efficient systems which can tap into renewable sources of energy which can reduce the total need for energy. As individual decision makers, each one of us can choose wisely to protect the environment. Over the next decade, building owners and commercial establishments will face increasingly tough environmental regulations, higher equipment costs, higher running costs and uncertain fuel prices.
Why a Performance Plus Heat Pump
HWHP is the leading manufacturer of Water Heating Heat Pumps in New Zealand since early 1980s. From the inception till now, one motto has pushed the company forward, "Advancing water heating heat pump technology". During this long period, we have stuck to what we know best, which has been developing, manufacturing and applying water heating heat pumps. In the past 28 years HWHP has been responsible for the development of a range of new high efficiency products with many being world firsts in design. We have not been afraid to dedicate our efforts and push the technical boundaries, and along the way we have managed to gain peoples (your) trust. For the time being, HWHP offers the widest range of water heating heat pumps in New Zealand. There are 36 different standard models, from 6 kW to 250kW output units. We have provided some of the best possible custom-built heat pump solutions available.
Product Lines
Residential, School, Commercial Swimming Pool Heat Pumps
Residential, Commercial Spa Pool Heat Pumps
Residential, Commercial Under-Floor Heating Heat Pumps
Domestic Hot Water Heat Pumps
Water-to-Water Chillers & Heaters
Reverse Cycle Water to Water Chillers & Heaters
Indoor Pool Ventilations & Heat-Recovery Systems
Time Clock bypass & Management Control System for swimming pools
How Heat Pumps Work
A Heat Pump is like a reverse fridge and uses electricity to operate. The free heat is extracted from the ambient air, upgraded with a compressor, and then pumped to the water. Therefore, it is very cost effective to heat the required pool water needed for the swimming pool even in the colder months of the year, as the electrical input is not to generate heat but just to move the free heat to the water, no matter what the weather condition is. Due to their high efficiency, Performance Plus heat pumps have a low cost of operation comparing to gas, diesel and electric element pool heaters.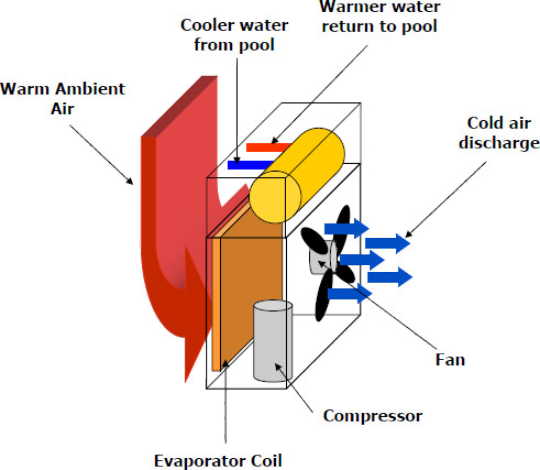 Compressor
Compressors make up a vast majority of the energy used in heat pumps. Therefore, compressor selection is very important to improving the overall efficiency of any pool or other applications heat pumps. Almost all heat pumps are fitted with super efficient and reliable Copeland Scroll compressors. They are one of the most reliable compressors available. Copeland Scroll compressors patented scroll design features:
Reliability: Copeland Scroll compressors are one of the most reliable compressors available. Copeland patented scroll design has superior liquid handling capability.
Efficiency: Copeland Scroll compressors achieve high efficiencies due to 100% volumetric efficiency during the compression process.
Size and Weight: Copeland Scroll compressors small footprint and vertical orientation reduces the square footage needed. This allows for a sleek design.
Sound: Copeland Scroll compressors function with 70% fewer moving parts, and no discharge or intake valves. The scroll design allows several pockets of gas to be compressed simultaneously providing a smooth, nearly continuous compression cycle. This enables the Copeland Scroll compressor to operate more smoothly and quietly, with less vibration.
Testing: Copeland Scroll compressors go under rigorous testing to guarantee that they meet industry standards. This assures contractors that they can install a unit without having to worry about multiple service call-backs.
Performance Plus Heat Exchangers
The titanium tube heat exchanger assembly has been developed from years of hands on experience and dedication to gain the technology we now put into each heat exchanger. Each heat exchanger is individually sized to meet the capacities of each individual heat pump. This is achieved by manufacturing the complete heat exchanger here at HWHP Ltd. As swimming pools have high volume filtration systems, Performance Plus heat exchanger cases are also designed for high volumes and in most cases can handle the full volume of the filtration system with only a minimal pressure drop or by adding approximately 10 kpa onto the filters operating pressure. An extra water pump to operate the heat pump is not normally required, offering a further reduction in heating costs.
Within New Zealand, Hot Water Heat Pumps Ltd offers a 30 year limited warranty against corrosion of the titanium tube within the heat exchanger, regardless of the pools chemistry (some warranties are subject to proper pool chemistry being maintained).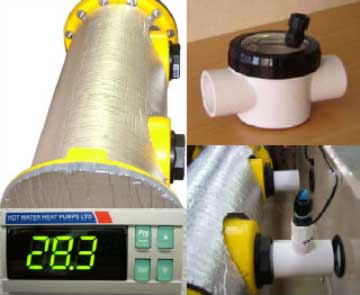 Flow Switch
Each Performance Plus Heat Pump is equipped with our unique water flow switch which allows the heat pump to operate automatically with the pool filtration system.
Temperature Sensor Assembly
Performance Plus Heat Pumps are fitted with a temperature sensor, sensing the pool water temperature entering the heat exchanger. Some models are supplied with an external temperature sensor assembly for an onsite installation.
Temperature Control
Temperature control is by an electronic temperature controller with temperature readout in tenths of a degree(whole degrees are too inaccurate). The pools temperature is maintained within 0.5 degrees Celsius, or 0.2 if requested.
Evaporator
The aluminum fins of the evaporator are epoxy coated for extra protection in corrosive environments such as salt-laden sea air and highly corrosive chlorinated air. The fins are mechanically expanded onto rifled copper tubes for better heat transfer.
Evaporator Fin Spray Test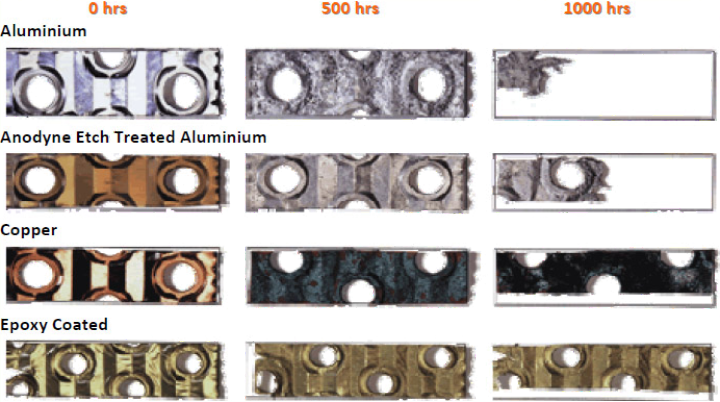 Refrigerant Control
The refrigerant is controlled by a bi-directional thermostatic expansion (TX) valve, finely tuned for optimum performance. It also controls the refrigerant flow when in reverse cycle defrosting, during low ambient operation.
Cabinet
The units cabinet and drain tray are constructed from high grade galvanized steel and polyester powder coating for increased durability. The external fasteners are stainless steel.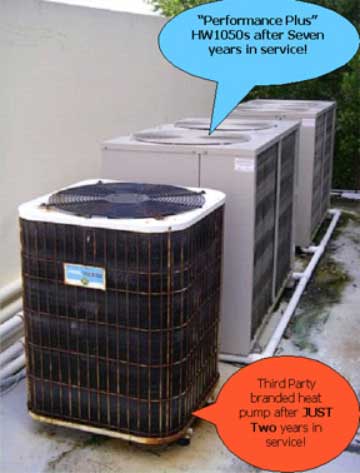 Features
Built-in flow switch
Built-in temperature sensor
3-speed, low noise level, direct drive propeller fans with guards
Thermostatic expansion valve for optimum refrigerant control all year round
Epoxy-coated evaporator coils
An individually sized titanium tube heat exchanger for each model
Molded polyethylene heat exchanger case with heavy duty end plates
Reverse cycle, de-ice standard on all models
Rubber mounting pads for positioning under heat pump feet
Energy Saving No Matter the Application
Performance Plus has the largest range of heat pumps in New Zealand with well over 36 different models. Different machines are used for different applications and have different efficiencies depending on that application. Applications with higher water temperatures such as domestic hot water and underfloor heating have a reduced efficiency, but when measured against electric elements or gas, the beneficial savings are quickly apparent. Swimming pool heating offers even higher unit efficiencies due to lower water temperatures. In a typical scenario of underfloor heating, for every dollar spent on electricity you can expect 3 dollars of heat created. For heating a swimming pool in summer, for every dollar spent you can get a return of 4 to 6 dollars of heat depending on the conditions.
Total Efficiency and High Performance from -10°C to +45°C
Our Performance Plus Heat Pumps are durable and versatile. They can safely operate in ambient temperatures, from -10°C to +45°C. Each heat pump incorporates high efficiency scroll or rotary compressors. Evaporator coils are epoxy coated and use inner grooved (rifled) tube for better heat transfer. This is possible using technology developed by Hot Water Heat Pumps Ltd.
Quiet Operation
All horizontal discharge models have single compressors, are supported on rubber mounts, and are isolated in a built-in insulated compartment to minimize vibration and noise.
Automatic Defrost
When the ambient temperature falls, particularly when it gets below 10°C, ice can form on the cooling coils. This lowers the units' efficiency to heat water. Using an electronic de-ice controller, our Performance Plus Heat Pumps offer a fast and efficient method of melting ice. When reverse cycle is initiated the compressor keeps running, the fan stops, and the refrigerant reverses direction, putting heat directly into the cooling coil. In this condition, it takes 3 to 5 minutes every half hour to clear the cooling coil of ice for efficient pool heating. We have used the reverse cycle defrost method for pool heating heat pumps since 1983 in New Zealand.
Safety and Controls
All Performance Plus Heat Pumps are fitted with protection systems so in the event of a malfunction, damage isn't caused to the unit. High/Low pressure controls (HP and LP switches), anti-short cycle timers, circuit breakers, electronic de-ice controllers and temperature controllers are essential and are fitted in all of our swimming pool heat pumps. Our purpose built flow switch ensures the heat pump cannot operate without water flow. Should a problem occur, the compressor will shut down, and a service agent should be contacted to investigate the issue.
Safety Features
Compressor high and low pressure refrigeration safety cut out switch (auto reset)
Time delay for anti short cycle compressor protection
Compressor overload protection
Built-in circuit breaker for fans and control circuit protection
Time and temperature controlled electronic de-ice switch for rapid defrosting of the evaporator coil during low ambient operation
Built-in water flow switch is supplied as standard - this stops the heat pump in the event of the filter pump stopping
Dual Purpose / Dual Temperature
Dual Purpose heat pumps were introduced to the New Zealand market by HWHP Ltd in 1983. Performance Plus Dual Purpose Heat Pumps offer the convenience of one unit, capable of heating a pool and a spa to two separate temperatures, without the need to divert water. The Dual Purpose system is designed so the spa takes priority and will switch automatically between heating the pool or spa as required. This can save some of the expense of buying two heat pumps, save space and lower operating costs.
Benefits of Performance Plus Heat Pumps
Performance Plus Heat Pumps...
provide a uniform desired set temperature throughout the swimming season no matter what the weather is like
are not dependent on direct sunrays
use renewable energy, making them safer and cleaner to run than a gas/diesel fossil fuel burner
are specifically designed for optimal performance even in freezing conditions, ensuring trouble free all year heating
are more efficient (average efficiency of 300% to 500%), therefore costing less to run than gas/diesel heaters or electric elements
are easy to install and operate
Unlike the general belief that solar heating is free, people forget the cost of pumping the pool water through the solar panel on the roof, which can cost as much as half of the heat pump's running cost
are available in the widest range - 36 different models from 6 to 250kw output units
are made of high quality components, resulting in less unit failures
have low operating, energy and maintenance costs
have a long life expectancy and are very durable
automatically maintain the desired temperature
have excellent after-sales service and free experienced technical support
have two years mechanical warranty and 30 years limited warranty against corrosion within the titanium tubing of the Heat Exchanger
Average Weekly Pool Heating Cost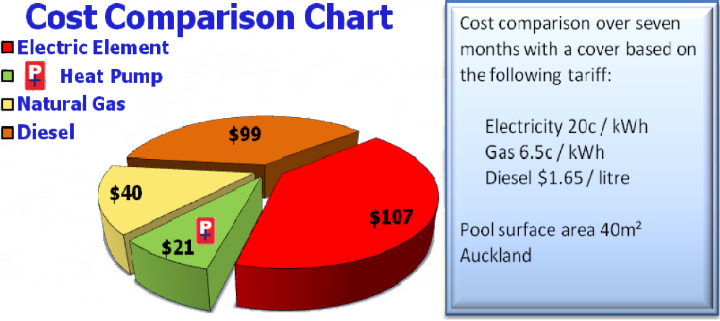 Outdoor Swimming Pools Heat Loss
Heat loss from outdoor swimming pools occurs mainly from the surface in the form of evaporation, radiation and convection. The colder the outdoor air temperature, the higher the heat loss is. Evaporation from the surface of the pool lowers both water temperature and the water level in the pool. Radiation causes heat loss in the pool by transferring that heat into the surrounding air.
Convection of heat energy is the result of cool air blowing over the pool's surface, lowering the water temperature. Heat loss is also attributed to conduction, which is a transfer of heat from the water through the pool walls to the surrounding air or soil.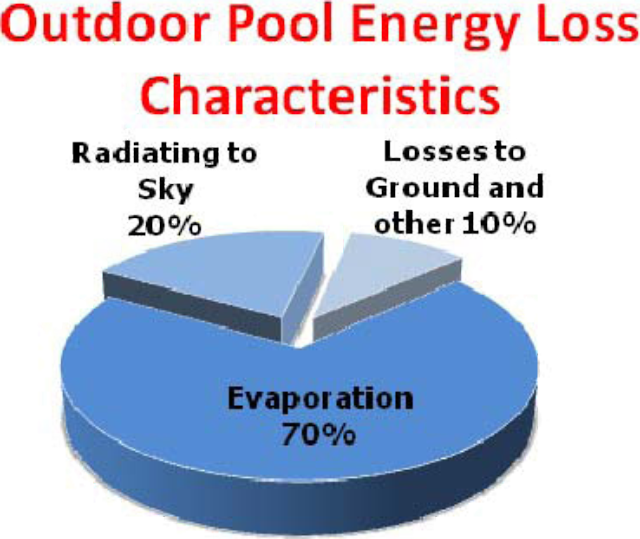 Pool Temperature
The energy consumption of an outdoor pool depends on the water and air temperature. For typical pool activity, set the temperature at 27°C - 28°C.
Wind Exposure
The evaporative heat loss in a swimming pool is greater as wind velocity over the pool surface increases. It is suggested to use solid fencing around the pool to create a sheltered area, such as glass. This would help to reduce pool energy consumption by 20 percent. Pools with an open exposure would consume about 50 percent more energy than a moderately sheltered one.
Swimming Pool Covers
Use of a floating thermal pool cover to bring the initial investment and running costs down, save energy and maintain the pool temperature when not in use is also recommended. A cover can save up to 50% on energy consumption compared with an uncovered pool and is the most significant energy saving measure you can take. This type of cover has special flotation properties, and, can not only save a substantial amount of the energy, but also significantly reduce water loss due to evaporation. A good quality thermal cover is recommended for all winter heating.
Comparison
A Heat Pump uses electricity to operate. The heat is extracted from the ambient air, upgraded with a compressor, and then transferred to the pool. Therefore, it is very cost effective to heat the pool continuously all year round, as the electricity is not used to generate heat, but to move the free heat to the pool, spa, Domestic Hot Water or Underfloor Heating application no matter what the weather conditions are. Due to their high efficiency, heat pumps have a low cost of operation ini comparison to gas or diesel burners.
Plumbing
Make sure filter pump is switched off before changing the position of any valves.
If the filter is located below the water level of the pool, close shut-off valves if available. If shut off valves have not been fitted close pool skimmers and use "plumbers putty" to block any drain locations inside the pool.
Cut a small section 100 to 200mm of the pipe section between the filter pool return and any chlorination device and plumb to and from the heat pump location making sure that the flow from the filter is connected to the water inlet on the heat pump and that the water outlet is connected to the pool return.
This is to reduce the risk of any deterioration of plastic or rubber fittings and seals from chorine or other chemicals.
All PVC pipe work should be clean and dry with all ends cut square and burrs removed.
Ensure correct PVC pipe cement is used.
Roughen all mating surfaces with emery tape and apply glue to both mating surfaces.
While surfaces are still wet bring the two together using a twisting motion to ensure good fit and hold for approximately 30 seconds.
Let glue dry for 24 hours before starting filtration pump.
Before commissioning remove lid from top of heat pump and then turn on filtration system.
Check that there are no water leaks from around heat exchanger or any of the PVC fittings and glue joints as this can cause major corrosion if left unattended.
Also flow switch should be checked and adjusted if necessary. This is done by loosening the gland nut on the top of the flow switch and pushing the probe down just enough to stop the flap bouncing up and down. Re-tighten gland nut.
Heat loss occurs from pipes carrying water, whether buried or exposed to the air. Especially in situations of all year heating and Spa heating where the water temperatures are higher and or ambient temperatures are lower. Therefore, to avoid unnecessary heat loss, all pipes must be insulated and be kept to the shortest possible distances.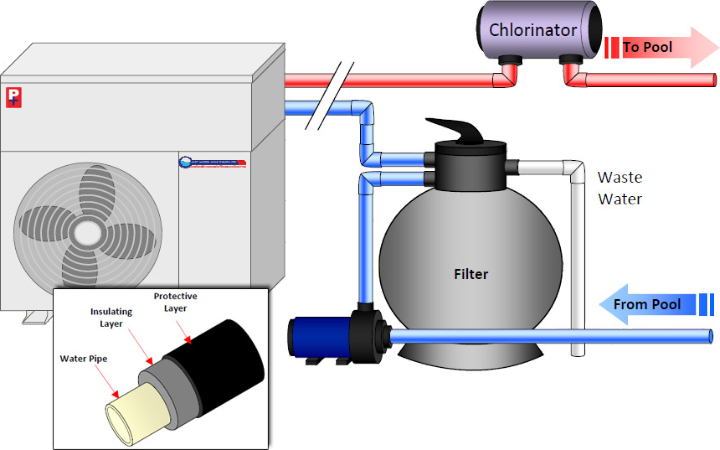 Parts & Labour Warranty
Hot Water Heat Pumps Ltd Performance Plus Pool Heat Pumps Series
Hot Water Heat Pumps Ltd (HWHP) warrants to the original owner and installation site, the Performance Plus Pool Heat Pump to be free of defects in materials and workmanship.
Starting Time: This product warranty begins with the date of original installation if the installation is reported to HWHP on the warranty registration form supplied with the product. If no installation date is reported, the length of the warranty will be 25 months from the date of shipment from the factory.
What is Covered: Compressor, evaporator coil, heat exchanger and refrigeration systems are covered for parts and labor for a period of 24 months after installation. Additionally, the titanium tube within the Heat Exchanger (HX) is covered against corrosion for an additional period of eight years in commercial applications and 28 years in residential applications. The HX warranty is "Back to Base", where delivery to and collection of your HX from our premises is your responsibility. HWHP is not liable for any non-factory labor involved in the removal of defective HX or installation of the replacement, unless it is preapproved.
This Warranty Shall Not Apply To:
Any defect due to misuse, neglect, negligence or accident, or to any damage caused by flood, fire or act of God.
Any defect or stoppage resulting from incorrect voltage or power surge. Electrical installation of electrical equipment must be carried out by a registered electrician, and final installation of heat pumps must comply with the local electrical supply authority requirements and regulations.
Equipment must be adequately protected from the elements or damage from other outside sources.
This warranty does not extend to include any components or equipment manufactured or supplied by any other person other than Hot Water Heat Pumps Ltd. Hot Water Heat Pumps Ltd is not liable under any warranty expressed or implied unless the goods or equipment have been paid for in full.
Attention is drawn to providing adequate ventilation to this unit. Failure to observe this requirement could cause air flow restriction which would make this warranty void.